T here are 2 kinds of pain.
One can imprison you and cut you off from the rest of the world.
And there's another kind of pain: the one that can transform you.
Within this transformation is a raw power that we all have inside us and are able to produce in others, whether they're our clients or our jurors.
Shifting your clients from victim to victor always works because it's the truth. It's the truth of who they really are, at their core. Their true story is never just about the pains they've suffered, but about how they are overcoming them. Time and again, we have found that "damage stories" are most compelling by far when we can show the jury the clients' spirited struggles to break free of their painful confines, emotionally and physically—to the best of their abilities. Get your clients out of miscasting themselves in the role they think they ought to play! Because it's not who they are.
My buddy Mel Orchard has a nice way of putting this. An outstanding trial lawyer and teacher, Mel will tell you that the goal is to bring the jurors to an emotional convergence.
They have to see the emotional truth of your client's situation, the beating heart of a story that beats in all of us. They have to see, and feel, how your client embodies the indomitable human spirit—a spirit worth fighting for. When and if they do, the twelve jurors will converge around your cause. They'll join your fight and win it for you.
Again: you already have the power to make this happen. Unfortunately, if you're like many lawyers out there, much of that power has been stifled—in no small part, by years of training geared to mold you into a legal technician rather than a living, breathing storyteller. One of the coolest things I get to do is break the mold and help you reclaim that power.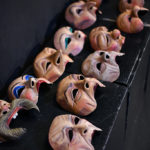 Which is where the masks come in. Working with the masks, you learn to shed the mask of constriction that has kept you from bringing forth your own true human spirit in court. Then you can work on removing the false "mask" that your clients believe they should wear—that of the helpless victim besieged by malignant forces—so the victor can shine.
You may be familiar with the victim-to-victor principle. In essence, it says people do not respond well to wearying tales of woe, and therefore you should frame a story so as to make your hero (i.e. your client) a winner instead of a whiner. This is supremely, vitally on the mark. It's also easier said than done.
In my upcoming workshop (which takes place in my hometown in Colorado Springs) I'm co-teaching with an amazing woman, trial lawyer, and great friend, Jacqui Ford.
In her lawyer's role as a Criminal Defense Attorney, Jacqui, like Mel Orchard, has strived to help her clients actually begin to climb out of the well of seeing themselves as hopeless victims, so they could become victors, or at least spirited fighters.
When you can help make this happen, it is profoundly gratifying for everyone involved (especially your jurors). The result is a victim-to-victor story that's true, and it does not require formal training as a grief counselor.
Freedoms and Reversals
The work begins with freeing ourselves from the victim trap, using masks to rise out of our deadly-dry lawyer's role. It's what the lawyer in the photo to the right is doing as he prepares to rise up from his knees, and it's what most lawyers find is fun to do, despite the seriousness of the work (which isn't so surprising, when you consider that freedom is, literally, liberating).
During the mask work, lawyers do a good bit of work in front of mirrors (imagine that you too are standing at a large mirror). This is important because mirrors have two very interesting properties.
They allow you to see yourself. And mirrors reverse things.
Which is a metaphor for what we often must do, if we want to move to a level beyond the one at which we've been operating.
Come work with us for 2 ½ days in March!
In our next 2 ½ day Workshop, Jacqui Ford and I are going to be working on the stage together along with a group of 20 trial lawyers at Cottonwood Center for the Arts in Colorado Springs. If you've never been here before, it's freaking gorgeous.
March 15-17, 2019
Cottonwood Center for the Arts, 427 E Colorado Ave, Colorado Springs, CO 80903
Early Bird Special in place until February 25th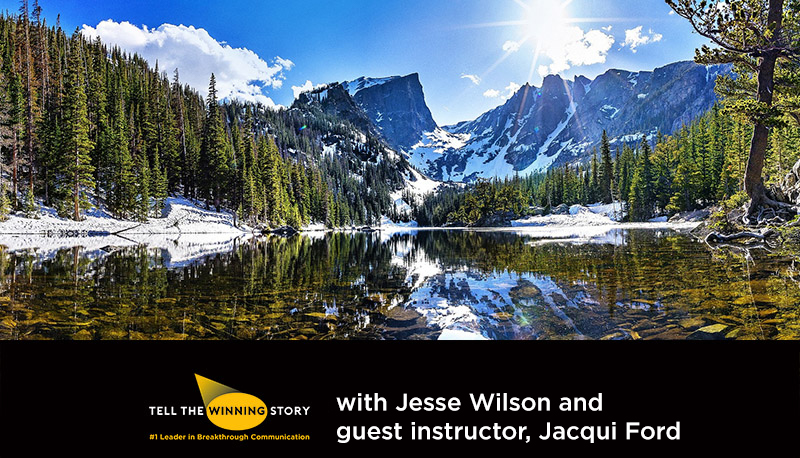 In a black box theater, we're going to reverse old perceptions that are untrue about unmasking the real role of our clients, so we can get at the truths beneath the surface.
You will learn to embrace obstacles—such as your own fears, or the weak points in your client's case—and "flip the script" into strengths.
Your words will communicate more deeply as you learn that powerful communication is more than mere words. It is a physical experience.
And ultimately, you will learn how to win cases for clients who have been terribly victimized, by finding—and imparting—the story of their fight to rise above victimhood.
To your success, inside and outside the stage… wherever and whatever that stage happens to be for you.
See event and enroll